The Truth About Jonathan Lawson Colonial Penn Actor
If you were wondering if Jonathan Lawson was giving real testimony of his great experiences with Colonial Penn 995 plan, then you were mistaken. He gets paid to say what he says.
Above all, I am sure you have seen Jonathan Lawson Colonial Penn commercials. In fact, it's hard to not see them especially if you are a senior looking into life insurance options.
Overall, when looking for burial insurance you will need to look at quality life insurance companies, so you do not want to be coerced by Jonathan Lawson into buying something based on a charming and familiar face.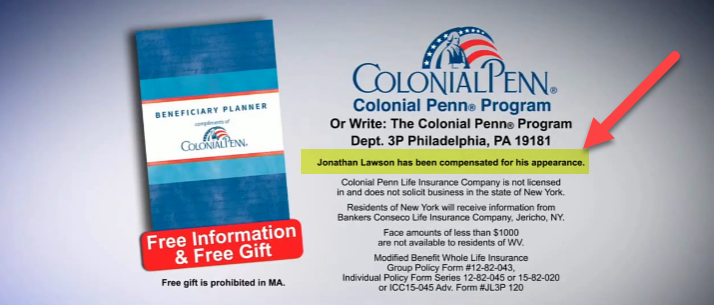 In this article, we will look deep into something senior consumers need to be aware of and what a Colonial Penn commercial may lead you to do.
In addition, we will look into Johnathan Lawson Colonial Penn commercials and the impact that may have on your buying decision.
We will be very blunt as I speak to hundreds of seniors like you every month about Colonial Penn whole life insurance options.
We do not offer this product. We advise highly against it. We will go over why.
So sit back, and pay attention, you will probably save thousands of dollars, and you're welcome in advance.
⭐To see a list of the best burial insurance carriers for seniors Click On "Compare Quotes"
How Much Does Colonial Penn Pay Jonathan Lawson
Jonathan Lawson is a paid actor who you have seen in Colonial Penn commercials advocating the $9.95 plan.
He is another new actor or pitchman like Alex Trebek that are promoting and marketing Colonial Penn's TV Commercials.
In fact, this plan is a guaranteed acceptance plan with a two year waiting period. These types of guaranteed acceptance plans are usually 30-50% more in price than the best plans available.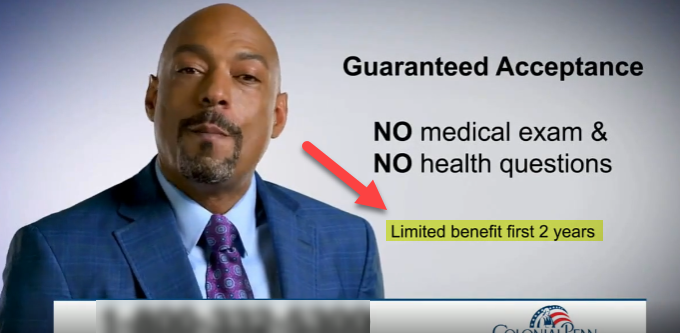 When you buy life insurance you want to be with an insurance company that gives you immediate coverage and a level death benefit. Colonial Penn is not that type of life insurance company.
In fact, other insurance companies have far superior products for burial insurance with zero waiting periods.
You may have to answer a few health questions, but you will not be limited on how much coverage you need in a ridiculous unit plan system.
Does Jonathan Lawson actually work for Colonial Penn?
Jonathan Lawson works for CNO Financial Group, the parent company of Colonial Penn. Records online have Jonathan Lawson Colonial Penn salary at approximately $400,000 per year.
Secure your loved ones' future with burial insurance
Or Call Lisa & Danny at 855-380-3300
What is Jonathan Lawson Colonial Penn Net Worth
Again, Jonathan Lawson is a paid spokesman for Colonial Penn Commercials. However, he holds a title with CNO Financial Group of Director of Quality Assurance & Escalations.
How much is Jonathan Lawson from Colonial Penn worth
Jonathan Lawson is an actual employee of Colonial Penn parent company CNO Financial Group. Based on what you can find online he has a net worth of $15-$17 million dollars.
He also spent time in the marine corps serving his country. He was in the USA marine corps for 14 years and served in combat and as a master instructor.
Mr. Lawson, thank you for your service to our country.
How old is Jonathan Lawson Colonial Penn Spokesman
Jonathan was born June 3, 1980 in Dunedin, Florida. So he is 42 years of age. After high school at age 18, he went to Pierce College and earned his BBA.
He has been at Colonial Penn for over 8 years and started off as a customer service manager and then as a telesales manager.
He has been advocating Colonial Penn life insurance as the best plan and best policy for years now.
With premiums being higher than the top carriers and having to wait two years for a policy pays out, do you really think it's a good deal? In addition, if you are healthy do you deserve a two-year waiting period?
---
Click on Your State To Find the BEST Rates
---
Who is Jonathan Lawson Colonial Penn Wife
That's a great question, there is no information online that confirms or denies whether Jonathan Lawson is married.
In fact, other than some information on him serving our country via the marine corps, his LinkedIn profile is limited as well.
Advocating seniors about life insurance products mostly for burial insurance you would figure a person who promotes a message like this would be a little more accessible.
Colonial Penn Commercials and Advertising Practices
When you compensate paid spokesman it's hard to take them seriously. In fact, Colonial Penn 995 per unit does not sell itself once you know what type of product it is.
Coverage is limited, no health questions, and a confusing price per unit.
Again, no questions ask and that seniors instantly qualify is a little misleading. No matter what the gender is there are many better options out there for both.
The cost and benefits that they are promoting to potential applicants in their commercials are horrible for seniors.
Colonial Penn life insurance products that Jonathan Lawson promotes seniors will not receive benefits for the first two years.
In addition, if you are in good health the coverage is limited and the premiums are too high.
This is very similar to the advertising practices from Globe and Life Insurance Savings Group!
👇Take a break, see what our clients are saying about us👇
---
---
Compare Quotes From The Top 18 A/A+ Rated Carriers Instantly
Or Call Lisa and danny 855-380-3300 where final expense insurance is done differently
Jonathan Lawson and the Three P's
Whenever you are watching Colonial Penn TV commercials with Jonathan Lawson he mentions the three P's, Price, Price, Price.
However, they never talk about the age and how as you get older the unit you can buy decreases in coverage.
He talks about Price you can afford, Price cant increase and Price fits your budget, DUH, of course, $9.95 will fit a senior's budget.
With such misleading articles and commercials seniors and potential clients regardless of gender, can find much better insurance coverage with better companies,
Colonial Penn Clients Complaints
In addition, misleading Tv Commercials from paid spokesmen like Jonathan Lawson and previously Alex Trebek, you have clients that complain about this product 3-4 times more than the average life insurance companies in the industry.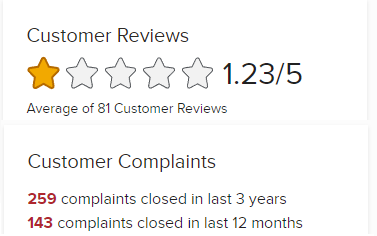 How do I file a complaint against Colonial Penn?
Most of the life insurance complaints are from the Better Business Bureau, with a dismal 1.23/5 stars. You can easily find other articles about these complaints with a simple Google search.
Most of them are from overcharging customers' accounts, not sending the right death benefit to the grieving family because of the wrong unit, and just incompetent customer service.
Here is an example of Colonial Penn insurance coverage


To file a complaint you can contact the BBB CLICK HERE
Conclusion
If you are looking for life insurance coverage, don't go to Colonial Penn. They pay their spokesmen a pretty penny to advocate how good their coverage is. But in reality, it is not.
Colonial Penn commercials with Jonathan Lawson are overpriced and your coverage is limited.
To cover properly, Colonial Penn will disappoint you. Call us and we can have you qualified, and matched up with an A/A+ carrier within minutes.
This will be without a spokesman telling you what is best for you, but us explaining why it is best for you.
If you want to be proactive and have a preapproved offer from the best carrier fill out this form by CLICKING HERE.
Peace of mind for you and your family